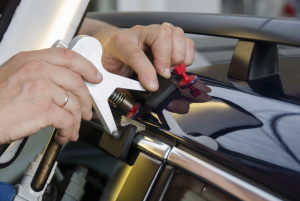 When most people think about auto body shops, they tend to think about auto painting and dent removal services or repairs that are mostly aesthetic in nature. The professionals at our auto body shop in Denver, CO, do a lot more than just that. These mechanics are trained to go beyond only the physical appearance of your vehicle and look at the actual "bones" of your car, including the frame and suspension system.
By going to an auto body shop, especially after a collision, you can get a full understanding of any damage done to your vehicle. Some of it might be easy to see with your eye, but some of it might not be as obvious. As metal bends, it can cause significant performance issues with your vehicle. This damage can even stop it from working. At our body shop, both the aesthetic and the functional features of your car can be restored.
Furthermore, since these are trained mechanics, they can provide the high-quality of work you would expect from professionals. That means you will receive flawless color matching and repairs that make your vehicle look like new again.
Make an investment in your vehicle when you take your car to Jewell Collision for repair services.